Expired Domain: A Purchase Guide
Thinking of Buying an Expired Domain?
Before you jump right in, take account of some of these critical facts.
Many people are drawn to the idea of purchasing expired domains. However, it is essential to look at the main benefits and the best way to go about getting the best value from the expired domains available.
People look to buy expired domains for many reasons, and we will explore some of these here. There are many benefits to be had, but you should consider several different aspects. So, let's begin by looking at what expired domains are and some of the reasons and benefits for buying them:
What is an Expired Domain and Why Should You Consider Buying One?
Put simply; an expired domain is one that the previous owner did not renew. The reasons for this are varied; it could be that they no longer need the domain, they may have forgotten, or the payment failed to go through.
Buying an expired domain
Once the domain has expired, the owner has 30 days to renew it; if they do not do so, the domain will be placed on an expired domains list and go up for auction.
The domain will be open to bids for seven days, after which the highest bidder wins the domain.
The Benefits of Expired Domains
The reason why people want to buy these domains is to take advantage of the fact that an expired domain still benefits from its rank in search engines and has built-in SEO value.
If a domain has been around for a long time, it is likely to have several backlinks, and you can use these to your advantage.
Here are some of the best ways to take advantage of expired domains:
1. Building Authority Quickly
With new domains, it is often a lot harder to build authority because this must be developed over time. If you are starting a site or blog, then buying an expired domain can give the edge because the site will have a certain amount of SEO built-in. It takes a lot of time and energy to add all the content and backlinks to a new website, but with an expired domain, all of the leg work will be done for you, you leverage the existing authority of the site and continue to build on this.
2. Backlink to your main site
Instead of using the expired domain as the basis for a new site, you can also use it to link to your existing website or blog site and take advantage of all of the backlinks the old site had by transferring them over. Adding a few articles and posts to the old site will make it look the part. In this way, you can buy several expired domains and create a Private Blog Network, allowing you to have several smaller sites all linking back to your main blog. Make sure you have two or more of these and that the content is diverse enough to look natural but relevant enough to link back to your main content. If you can do that it gives the overall impression that many unique sites are linking back to your own. You must ensure that there is no apparent relationship between the sites by using different hosting services and having separate IP addresses.
3. Redirect customers to your site
If you don't want to set up a mini-site, you can use the old domain name to link to your website by using a 301 direct. This will automatically send users from the original expired domain straight to your site. The reasoning is that if you have purchased a domain with good SEO and backlinks, all of those will then be transferred over to your main website.
Be aware that for any of the above three strategies to work, the expired domains must be in a similar industry to your own.
4. Buying Expired Domains for Resale
Domain flipping, as it is known, can be a lucrative form of income. This is buying a domain to sell it on for a profit later. How this works: You would buy an expired domain at auction and then work to increase its value. You can do this by increasing backlinks, adding new content, or just keeping it active for a while.
Another way of making money by selling on a domain that you've purchased via an expired domains list is to build a new site and sell the entire thing on at a large profit. This is more time consuming and needs a lot more effort on your part, but the rewards can be great.
Buyer Beware - What to look for in an expired domain.
It always pays to do due diligence when buying an expired domain. Some may seem like a really good deal, but once you look into them more deeply, it becomes clear that buying them is not the best decision. This research should not cost you anything other than time; there are many free tools that you can access online to help with this. Here are some of the key things to look for when looking at buying an expired domain.
Age
Older domains have a much higher authority. Look at the life history of the domain and only purchase if it has a long and established use. Buying domains that have expired after one or two years will not prove valuable even if they look like a good deal.
Back-links
Always check the backlinks. An expired domain with high-quality backlinks can be a great asset; however, if all the backlinks are low quality or look like spam, you will want to give it a miss. There are many backlink checkers available to help you determine the quality of the sites linking to the domain.
History
How a site used to look will give you a great idea about the quality of the domain. Wayback Machine can be used to look at expired domains and see what they used to look like. If you can see that it was once a low quality, spammy type of site, you won't want to buy it.
Use Moz
Moz offers a lot of tools that can make your life a lot easier as you work through your expired domains list. In particular, you can look at the history and backlinks associated with the site by looking at Page Authority and Domain Authority scores. If they are low, then walk away.
Traffic
Traffic is important, and obviously, the higher the monthly traffic, the more valuable the expired domain will be. If you want to get some good quality returns, then buy sites with plenty of traffic. This is even more important if you want to keep the site open as it will make it more attractive to guest bloggers.
Use Google Ban Checker
A site that has been banned from Google has no value at all. It takes a few minutes to check, and it could save you from an expensive mistake.
Where to buy your site
If you have decided that you want to purchase an expired domain and you are confident that you know exactly what you are looking for and what to avoid it is time to go and buy your site. Several expired domain auction sites are available, however, the most accurate of the lot is DomCop. They are the only ones that have Moz metrics that we need to rely upon to know the Domain Authority value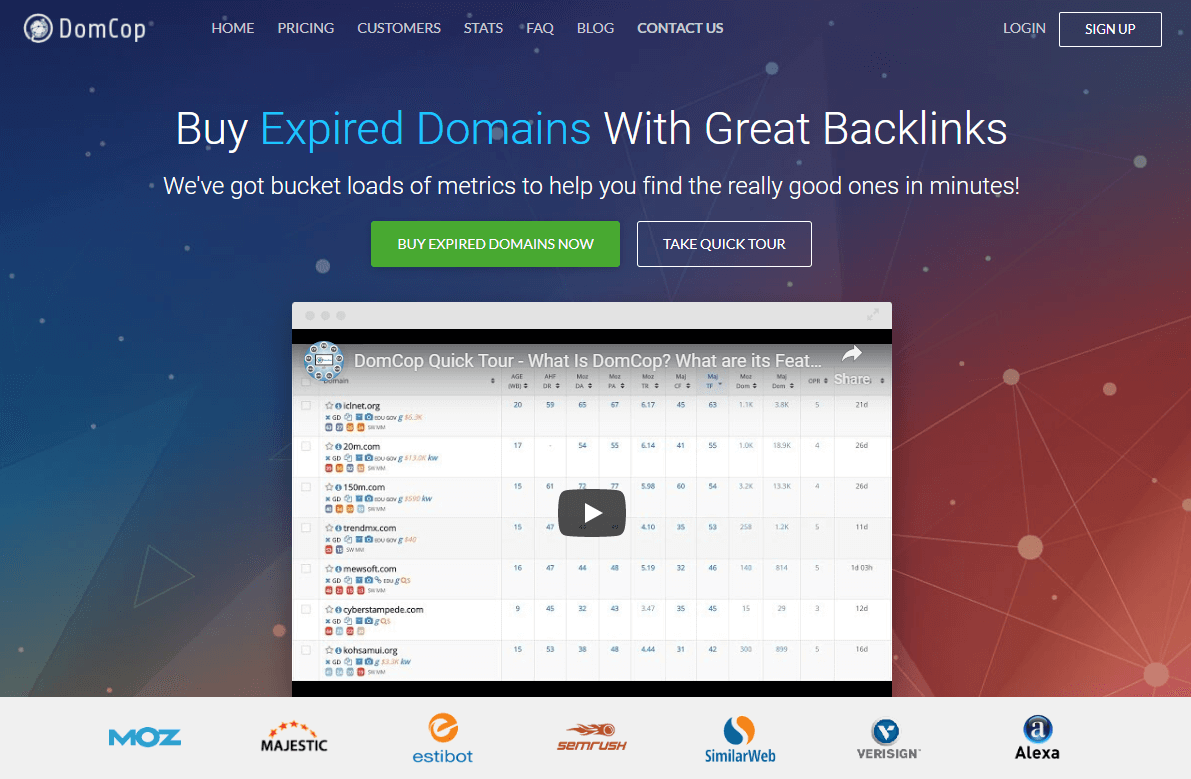 Remember, always take some time to research properly before bidding on a domain.
Good luck!!